Twenty participants in the Northwest College of Construction's three-week summer camp are participating in field excursions and hands-on activities.
Participants in the Northwest College of Construction summer camp work together in a team-building exercise designed to replicate bridge construction in a parking lot near the Interstate 84 Sandy River Bridge. (Hamilton Construction)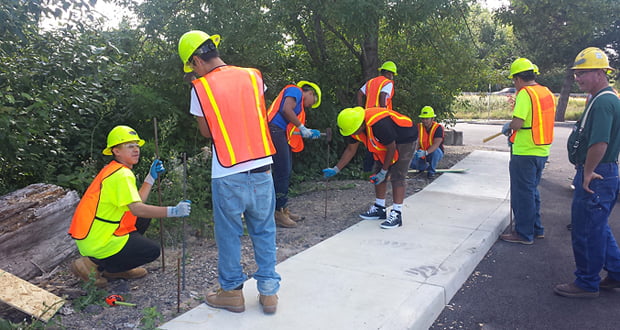 In the construction world, teamwork is as integral as anyone's individual skill. Twenty participants in the Northwest College of Construction's three-week summer camp learned that last week when they worked in small groups near the new Interstate 84 Sandy River Bridge.
After spending time Wednesday in the classroom learning about pile driving, some of the campers took on the activity Thursday as part of construction of a mini bridge pier near Troutdale. When they finished pounding in rebar stakes, they set a string line as a grade to make sure the stakes were at the right elevation and spaced correctly. Then they went to help those who were stuck, said Aaron Standeford, a project engineer for Springfield-based Hamilton Construction.
"In the real world, we all help to work together," he said. "We all have separate jobs. But collectively, we have to build one bridge. It is an excellent exercise for team building."
This year's summer camp, the second offered by NWCC, has a significant number of hands-on activities that give campers ages 16 to 24 a taste of the construction world. The instruction is broken up into classroom activities and field excursions, which include use of equipment and chats with professionals in the field, said David Zagorodney, president of the Northwest College of Construction.
Standeford, who spent time as an intern with Hamilton while studying construction engineering management at Oregon State University, answered campers questions that ranged from 'How much money do you guys make?' to 'Do we really need to know math?' he said. Some campers, particularly one girl who was interested in a career in civil engineering, were more inquisitive than others.
"Really, what NWCC is all about is getting kids a chance to break into the field," he said. "Going to a four-year university is not for everyone. Some people are better suited to being in the field and working. The college gets them that experience."
Next week, campers will visit VillaSport Athletic Club and Spa in Beaverton, where contractors will pour finishing concrete. Before that, they will spend time in the classroom learning how cement bonds to iron, Zagorodney said. Another trip will take them to the Street of Dreams in Happy Valley, where they will see how tile is cut and laid out.
During the excursion to the Sandy River Bridge project, a former NWCC student now working on the project approached campers and shared her experiences as a bridge builder. They spent an hour asking her questions, Zagorodney said.
"She let the campers hold her belt," he said. "It became real for all of us. They can really visualize themselves being construction workers."
The 20 campers, from low-income backgrounds, benefit strongly from experiencing what life is like in a range of construction activities, said Pat Daniels, executive director for Constructing Hope, a state-certified pre-apprenticeship program that partners with NWCC.
"To me, the students don't have an avenue to get here, and there's nothing in the school telling them how to get into the trades," she said. "They don't even think of it as a career."
Camp attendance increases the likelihood that someone could be admitted into a pre-apprenticeship program, according to Daniels.
The students have enjoyed the hands-on activities and are inquiring about potential career opportunities, she said.
"Nobody's late," she said. "Everybody's having fun. They can't wait for what they're going to learn next."
See the article in the DJC Newsletter: http://djcoregon.com/news/2014/07/11/colleges-camp-offers-a-taste-of-construction/#ixzz37SQHUj20