By:
Josh Kulla
in
Construction
,
News
May 4, 2018
3:44 pm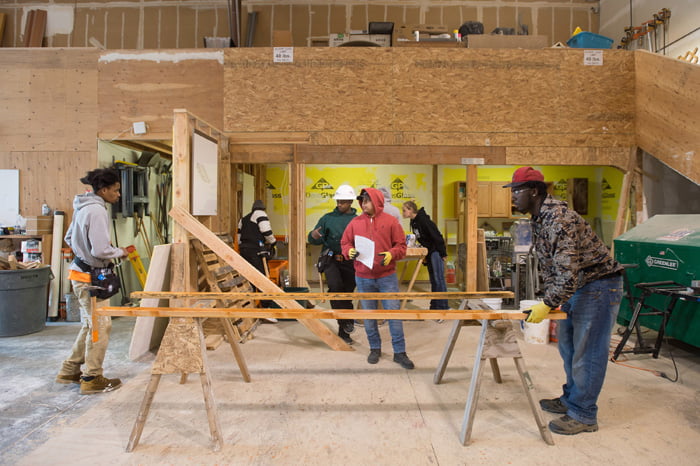 Construction pre-apprentice students participate in an educational session at the Northwest College of Construction, which hosts the Work Opportunity Training program. (Josh Kulla/DJC)
Workforce development has become more than a topic of discussion among contractors; it's now a mantra.
Everyone is looking for skilled labor and not finding it," Northwest College of Construction; President Bob Strader said.
But nonprofit Portland Opportunities Industrialization Center (POIC) Inc.and Rosemary Anderson High School have partnered to make a difference in the situation. They are offering a pre-apprenticeship course to young people ages 17-25, most of whom are minorities and come from disadvantaged backgrounds.
Work Opportunity Training classes kicked off at the Northwest College of Construction in Northeast Portland a month ago, and the 12-week program will conclude June 21. At that point, graduates will be able to start work or continue their training in a formal apprenticeship program.
And even though the program is just starting, contractors from throughout the Portland-metro area already are expressing interest in connecting with these first 10 students, according to Torre Sathrum, a POIC instructor.
We've been flooded with inquiries," he said. "We've been overwhelmed."
For 26-year-old Benson Polytechnic High School graduate and program participant Trayvayae Cason, there is little time to waste.
I'm the old one in here," he said with a laugh. "I want to become an electrician. So, first, I'm going to start off here and work my way into a union and their apprenticeship program if I can. I could also do carpentry or HVAC; whatever I choose in the next eight weeks or so, I can definitely see myself doing it."
Cason said many of the men in his extended family have taken jobs in skilled trades. And at Benson, known for its construction course and other vocational programs, he developed an interest in trades that survived having two children and a stint in California before a return to the Northwest.
When you enjoy learning it's the best thing to do," he said. "You can learn how to build your own house or whatever structure you want. It's always good to have something to pass on to your children."
A training program evolves
The POIC is an affiliate of the national Opportunities Industrialization Center of America, which was founded in 1958 in Philadelphia to help young black men and women obtain employment training and work opportunities. The Portland affiliate was established for the same purpose a decade later, and currently serves more than 700 students and work trainees each year.
Three programs are offered to young adults (up to age 25) in Portland: Rosemary Anderson High School, for those in need of a diploma; POIC Work Opportunity Training, for those in need of career training; and Rosemary Anderson Transitions, for graduates in post-secondary education in need of mentorship and support.
Our focus has shifted over the years toward youth," said Lanya McClintock, director of employment and training for the POIC. "We work with students who have not had success in traditional high schools. And we've always had a focus on employment and training."
In addition to the new pre-apprentice program, the POIC also offers family services, young parent education, street-level gang outreach and other initiatives geared to help people in poverty.
For a while we have wanted to train youth for a specific career path," McClintock said. "There's such a need in Portland to fill these construction jobs, and especially with young people of color and women, that's really where this came from. The wages and opportunities are so great in the trades and construction, it's really a pathway out of poverty.
Expectations and experience
On a recent Monday, the 10 students enrolled in the program filed back into their college classrooms after an early-morning visit to a new POIC space. Remodeling is under way in the former home of a Gresham Police gang outreach office at the corner of Southeast 187th Avenue and Stark Street. Located in the heart of Rockwood, in east Multnomah County, the new space will give the POIC a seat in the Rockwood Rising development poised to rise soon. It's a central location that likely will attract additional job seekers.
But for now, it's a first glimpse for the 10 students at what construction is like in the real world.
Sathrum said students, who must pass an application process, must be at work or in the classroom by 6:30 a.m. each morning. Attendance is compulsory, just like an employer would demand. And students are expected to adhere to industry safety standards and regulations while they work.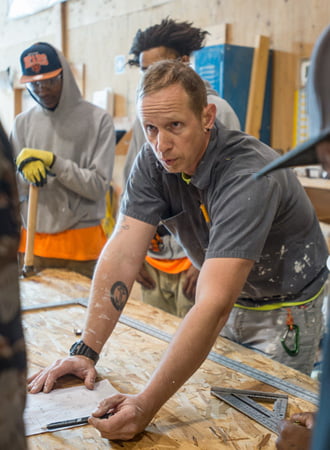 Portland Opportunities Industrialization Center instructor Torre Sathrum, a former general contractor, leads pre-apprentice students through a lesson in laminates at the Northwest College of Construction. (Josh Kulla/DJC)
Each student gets a paycheck during the entirety of the 12-week course, along with the skills needed to step into an apprenticeship either via another training course or with a company looking to fill a labor gap.
It's like a real job for them," Sathrum said.
Sathrum knows full well the value of pre-apprentice and apprentice programs like those offered at the Northwest College of Construction. He's worked as a general contractor as well as an instructor. And in the latter role, he said, he has often seen students quickly succeed in the construction after completing their training.
A lot of those guys come back here and the first year they're driving new trucks," Sathrum said. "And then the second year they're looking to buy a house."
Opportunities are out there
There is an increasing emphasis on getting minorities and women into apprenticeship programs and jobs in the field, in part because of increasingly rigorous public project workforce requirements.
For instance, subcontractors working on the ongoing Multnomah County Courthouse project are required to employ at least 20 percent minorities and 6 percent women on the job. And that's among the journeymen working; for apprentices, the numbers are even more aggressive: at least 20 percent minorities and 25 percent women, said Justin Paterson, a project manager with Hoffman Construction.
There's this message out there and that is: 'Get out there and get women and people of color into trades,'" he said. "It's a big systemic issue we're not going to solve completely on this project. But more and more, people recognize it. Public agencies like the county are pushing for it, and we'll push the needle on projects like this."
Strader agreed, saying construction in the public sector is what is driving students to the Northwest College of Construction.
The demand generator is the U.S. government," he said. "A third of everything that's built is owned by the public, and the public agencies require prevailing wage; they require 20 or more percent of the hours on a job be dedicated to training. That's what creates the demand, and that's what has me in business."
Some contractors working entirely in the private sector still send students to training schools like the PNCC. But that represents a "small minority" of the industry, Strader said.
There are contractors that don't perform public works that still send their students," he said. "But it's based on getting their people skilled up, not based on public works."
Outreach to young adults
Money for POIC's pre-apprentice program comes from Worksystems, a Portland nonprofit that focuses on workforce development. Worksystems receives money from local, state and federal governments and distributes it to workforce development programs around the region.
Further, Metro and Mortenson Construction have chipped in to help develop the program so that it would be able to complete the Bureau of Labor and Industries pre-apprenticeship program certification process.
This has allowed POIC students like 23-year-old Jennifer Geisler, who commutes daily from Kelso, Washington, a chance to achieve something meaningful.
"I enjoy it so far, it's really interesting being the only girl here," she said. "The first day it was (intimidating), but after I got to know everyone I was like, 'This is fine.'"
Unlike her twin sister, Geisler added, she had to navigate through a number of life obstacles before finding herself responding earlier this year to an online ad for the POIC program.
I've had a few bumps in the road," she said, admitting to a yearlong stint in a juvenile facility as a teenager. "Now I'm just trying really hard to find somewhere that I'm comfortable. I'm trying to stick with something. I don't even care what type of job it is, if it's going to make me money and pay my bills I'm going to stick with it."