NWCOC FEATURED IN THE DAILY JOURNAL OF COMMERCE
A Walk on the Wildside
By: Stephanie Basalyga in Construction, News January 23, 2018 4:19 pm
A boardwalk is being built at Pleasant Valley Elementary School in Gresham with help from students at the Northwest College of Construction, Portland Youth Builders and Constructing Hope. (Courtesy of David Scharfenberg)
When it comes to providing entry-level training for people looking to step into careers in the construction trades, Monte Boyer knows there's no substitute for real-world experience.
That's why Boyer, the manager of craft instruction at the Northwest College of Construction, has made it a habit to try to find projects for the school's students that provide hands-on experience while giving back to the community.
The most recent of those efforts is under way at Pleasant Valley Elementary School in Gresham, where the construction college's students are building a boardwalk and trail system so that students from the grade school and people from the community can easily access a 10-acre site called Wildside.
Since 2007, Pleasant Valley science teacher David Scharfenberg has been working with his sixth-grade students to turn the field from a tangle of blackberry brambles and weeds into a place that is equal parts outdoor laboratory and forest restoration project.
At least twice a week, students leave the classroom and head out into Wildside to conduct experiments. Scharfenberg and his students have planted 4,200 trees and conducted studies to monitor their health. They've studied, identified and removed invasive species and worked to re-establish native plants in the area.
The work to transform the site has offered other lessons outside the world of science. With a limited budget to improve Wildside, Scharfenberg's students have learned to write grants. Those efforts have resulted in drumming up about $225,000 from agencies that include Metro, the Oregon Watershed Enhancement Board and the Multnomah Soil and Water Conservation District.
They've also learned about the intricacies of developing and building in sensitive natural areas as they've started to use some of the grant money to install a boardwalk and trail system that will allow others to visit – and learn – about Wildside.
"We had to go through a huge permitting process," Scharfenberg said. "We discovered it doesn't matter if you're a for-profit developer or a nonprofit – you still have to pay for fees."
In order to stretch the grant money they received for the boardwalk project, Scharfenberg and his students had to get creative. Working with a Tualatin-based company called Western Wood Structures, they found a basic design and a pin-pile foundation product called Diamond Pier that minimized the amount of concrete that would have to be poured to create a foundation for the boardwalk.
The teacher and his students also needed to minimize the cost to actually build the boardwalk and trail system. Scharfenberg had been in talks with ACE Academy to have students in the school build the boardwalk. But the school ended up closing before the projects reached the construction phase. A plan to work with pre-apprentices from Oregon Tradeswomen Inc. also fell through because the school was too far outside of OTI's coverage area.
Then Scharfenberg remembered the building he'd passed by near Northeast 82nd Avenue more than once – the Northwest College of Construction. He figured someone there might be able to point him to a new resource. He contacted the college, and soon he and Boyer were discussing how the school and the college could work together on the boardwalk project.
The students at the construction college first began gaining field experience through community projects about 10 years ago when an instructor at the school told Boyer that volunteer help was needed to build the Heroes Memorial in Gresham. For Boyer, the project provided a solution to the challenge of evaluating how students would perform on a real project while providing them with hands-on experience to support their classroom learning.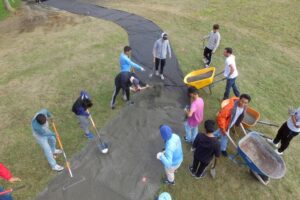 A gravel trail is part of a construction project linking Gresham's Pleasant Valley Elementary School with a 10-acre outdoor site called Wildside. (Courtesy of David Scharfenberg)
"For our concrete students, it's really hard to give them experience with concrete; you can't pour concrete in a shop," Boyer said. "So I started trying to get them opportunities outside of the school."
Soon after the construction college's students wrapped up a year of working on the Heroes Memorial, more community project opportunities came their way. Although the flood of community projects dried up during the recession, it resumed about four or five years ago, Boyer said.
The Pleasant Valley boardwalk project is more than just a basic hands-on experience, though. It also is providing students exposure to new techniques as a result of working with the Diamond Pier system, which Boyer said he had never worked with until now.
The project also has offered an opportunity for the college to begin to forge a new partnership with Portland Youth Builders and Constructing Hope, which also are providing pre-apprenticeship students for the work crew.
"It's just opened up a whole new avenue of opportunity," Boyer said.
The boardwalk project, which includes construction of between 1,000 and 1,200 square feet of gravel trail, is approximately one-third of the way toward completion. Work is expected to wrap up by the time the school cuts a ribbon to celebrate the 10-year anniversary of Wildside.
In the meantime, Scharfenberg's students are already busy on their next project.
"(They're) writing grants for monitoring equipment," he said. "They want to install game cameras to capture images of both human and animal users."
GRESHAM HEROES MEMORIAL
In 2008/2009, The Northwest College of Construction was proud to be a part of the construction efforts, in cooperation with local suppliers and contractors, to build the Gresham Heroes Memorial.
The Gresham Heroes Memorial provides a permanent place to honor the men and women who have served in all branches of the military or the fire and police services. The memorial is located at the corner of Powell Boulevard and Roberts at 219 South Main Street.
The memorial is managed by a task force of volunteers. These volunteers organized an effort to fund the memorial largely from grants and donations.
In March 2004, then City Councilor, Jack Hanna, requested approval from the Gresham City Council to establish a Task Force to raise the funds to build a Memorial to all men and women in Military, Fire, and Police services. The Council agreed and in, April the Task Force was formed. But there was one condition – there would be no City money involved. And so it began . . .
After five years of fund raising and a year of construction on May 2, 2009, the Heroes Memorial & Tribute was dedicated. She was built through the generosity of citizens and corporate sponsors and one of the few projects within the City that was completely paid-in-full on the day of dedication. Located within the parameters of an area known as Small Park, which had been cared for by the Optimists Club for many years, on the corner of Powell and Roberts adjacent to Main City Park in the heart of downtown Gresham, Oregon.