A walk on the Wildside
By:
Stephanie Basalyga
in
Construction
,
News
January 23, 2018 4:19 pm
A boardwalk is being built at Pleasant Valley Elementary School in Gresham with help from students at the Northwest College of Construction, Portland Youth Builders and Constructing Hope. (Courtesy of David Scharfenberg)
When it comes to providing entry-level training for people looking to step into careers in the construction trades, Monte Boyer knows there's no substitute for real-world experience. That's why Boyer, the manager of craft instruction at the
Northwest College of Construction
, has made it a habit to try to find projects for the school's students that provide hands-on experience while giving back to the community. The most recent of those efforts is under way at
Pleasant Valley Elementary School
in Gresham, where the construction college's students are building a boardwalk and trail system so that students from the grade school and people from the community can easily access a 10-acre site called Wildside. Since 2007, Pleasant Valley science teacher David Scharfenberg has been working with his sixth-grade students to turn the field from a tangle of blackberry brambles and weeds into a place that is equal parts outdoor laboratory and forest restoration project. At least twice a week, students leave the classroom and head out into Wildside to conduct experiments. Scharfenberg and his students have planted 4,200 trees and conducted studies to monitor their health. They've studied, identified and removed invasive species and worked to re-establish native plants in the area. The work to transform the site has offered other lessons outside the world of science. With a limited budget to improve Wildside, Scharfenberg's students have learned to write grants. Those efforts have resulted in drumming up about $225,000 from agencies that include
Metro
, the
Oregon Watershed Enhancement Board
and the
Multnomah Soil and Water Conservation District
. They've also learned about the intricacies of developing and building in sensitive natural areas as they've started to use some of the grant money to install a boardwalk and trail system that will allow others to visit – and learn – about Wildside. "We had to go through a huge permitting process," Scharfenberg said. "We discovered it doesn't matter if you're a for-profit developer or a nonprofit – you still have to pay for fees." In order to stretch the grant money they received for the boardwalk project, Scharfenberg and his students had to get creative. Working with a Tualatin-based company called
Western Wood Structures
, they found a basic design and a pin-pile foundation product called
Diamond Pier
that minimized the amount of concrete that would have to be poured to create a foundation for the boardwalk. The teacher and his students also needed to minimize the cost to actually build the boardwalk and trail system. Scharfenberg had been in talks with
ACE Academy
to have students in the school build the boardwalk. But the school ended up closing before the projects reached the construction phase. A plan to work with pre-apprentices from
Oregon Tradeswomen Inc.
also fell through because the school was too far outside of OTI's coverage area. Then Scharfenberg remembered the building he'd passed by near Northeast 82nd Avenue more than once – the Northwest College of Construction. He figured someone there might be able to point him to a new resource. He contacted the college, and soon he and Boyer were discussing how the school and the college could work together on the boardwalk project. The students at the construction college first began gaining field experience through community projects about 10 years ago when an instructor at the school told Boyer that volunteer help was needed to build the
Heroes Memorial
in Gresham. For Boyer, the project provided a solution to the challenge of evaluating how students would perform on a real project while providing them with hands-on experience to support their classroom learning.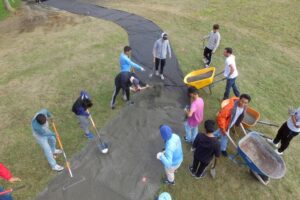 A gravel trail is part of a construction project linking Gresham's Pleasant Valley Elementary School with a 10-acre outdoor site called Wildside. (Courtesy of David Scharfenberg)
"For our concrete students, it's really hard to give them experience with concrete; you can't pour concrete in a shop," Boyer said. "So I started trying to get them opportunities outside of the school." Soon after the construction college's students wrapped up a year of working on the Heroes Memorial, more community project opportunities came their way. Although the flood of community projects dried up during the recession, it resumed about four or five years ago, Boyer said. The Pleasant Valley boardwalk project is more than just a basic hands-on experience, though. It also is providing students exposure to new techniques as a result of working with the Diamond Pier system, which Boyer said he had never worked with until now. The project also has offered an opportunity for the college to begin to forge a new partnership with
Portland Youth Builders
and
Constructing Hope
, which also are providing pre-apprenticeship students for the work crew. "It's just opened up a whole new avenue of opportunity," Boyer said. The boardwalk project, which includes construction of between 1,000 and 1,200 square feet of gravel trail, is approximately one-third of the way toward completion. Work is expected to wrap up by the time the school cuts a ribbon to celebrate the 10-year anniversary of Wildside. In the meantime, Scharfenberg's students are already busy on their next project. "(They're) writing grants for monitoring equipment," he said. "They want to install game cameras to capture images of both human and animal users." __________________________________________
Shovel-ready scholars
Joseph Gallivan 06 June 2017
Northwest College of Construction students attend their graduation ceremony in a boom time.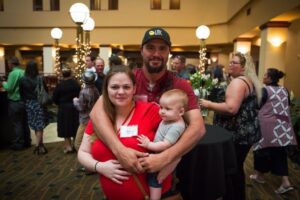 PAMPLIN MEDIA GROUP: ADAM WICKHAM – James Phillips, his wife Maryann and son Noah, at Jamess graduation ceremony. While working for Gregory Pacific, Phillips has done mainly footings and pipe laying. He expects his basic wage to go from $16 an hour to $20.66, the BOLI mandated minimum for qualified laborers.
The labor shortage in construction means it's a good time to get in on the ground floor. That was the thinking of several worker-students at the Northwest College of Construction's recent graduation celebration. The Class of 2017 gathered at the Embassy Suites near Portland International Airport to mark their commencement. Students including sheet metalworkers, carpenters, heavy equipment operators, masons, tilers and laborers, who brought their families for dinner and to see them walk the stage. Most students enter the college with some sort of experience: they've helped family members with building jobs, or they have worked in construction and want to specialize. Last October the Business Tribune looked at a class of Oregon-Columbia Laborers (Going into labor, Oct. 28, 2016). Their instructor was Cory Fisher, who had been a laborer and progressed to his current day job as a welder in construction. Fisher had six students in his laborers class. Three made it to graduation. One guy, he said, went back to his old job. Another went to work for a union. Another, Andy Sorrick of Mill City Oregon, an outspoken young man with a military background, left to be a gunsmith.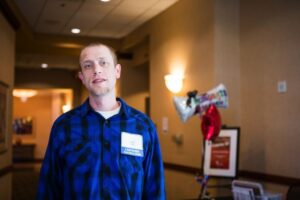 PAMPLIN MEDIA GROUP: ADAM WICKHAM – Northwest College of Construction instructor Cory Fisher is a welder by day but teaches laboring to long distance learners. He says employers are loyal to graduates to who are loyal to them. Laborer Graduate of the Year Jonathan Anaya credits the school with encouraging employers give him more opportunity and better pay. Katrina Cloud, NWCC Director of Apprenticeship, introduced the graduates and speakers NWCC President Bob Strader and Brad Avakian, the Commissioner of the Oregon Bureau of Labor and Industries.
In the hot May sunset, Fisher was working the phone the evening of May 25, 2017. Of the nine graduates listed in the laborers section, only two had come for the ceremony. That's not surprising since they are mostly long-distance learners: they work full time and often live outside Portland. Typically, they cram their study time at the college into a Friday night and Saturday, and do their homework at home — after work. Fisher was worried because Graduate of the Year, Jonathan Anaya, hadn't shown up. The pre-func drinks around the fountain were over. The dining room was crowded and the servers were starting to move amongst them, filling wine glasses and setting down plates. Fisher dialed and texted for a while until he finally got a hold of Anaya. Twenty minutes later, the slight 27-year-old hurried in wearing a clean shirt and smiling. At five o'clock he had gotten off work in Vancouver, where he is laying pipe in a subdivision. Then he had to fetch a rental car and go home and pack for a family trip to Manteca, 17 miles from Stockton, California. He was planning to drive straight through the evening but put it off until nighttime at his teacher's request. Why does he think he made graduate of the year? "I think it's because I've been busting my ass!" says Anaya with a smile. "I work really hard, never miss class, I try to do my best on the tests."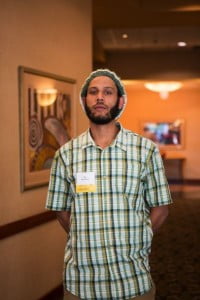 PAMPLIN MEDIA GROUP: ADAM WICKHAM – Cy Robertson, a cousin of Jarvis Zirkle, is also a carpenter, and has worked on many Portland area projects. His friend in Reno is making $2,000 a week, which is tempting, but he doesnt wan to leave his family behind in Portland for work.
Deadly
In his job with excavator firm Tapani Underground of Battleground, Washington, Anaya has worked his way up from helper to top hand, (the person on the top of the ditch) to pipe layer (the person in the trench). He has handled pipe from 10 inches in diameter to 18 inches, although they get as big as 24 inches. They work on sewer, water and storm water in the growing Vancouver suburbs. An excavator lowers the pipe into place, but the pipe layer is down in the trench placing and connecting it. He says he has seen small accidents, nothing serious. But it's a dangerous trade. "There's a lot of deaths in my occupation. You've got to be alert, you can die. The dirt caves in, a machine can hit you…" Anaya likes pipe laying but he wants to work for a couple more years then return to the same school for the HVAC certificate.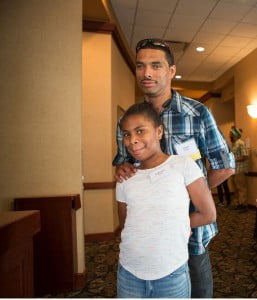 PAMPLIN MEDIA GROUP: ADAM WICKHAM – Jarvis Zirkle and his daughter Ladonna. Zirkle is a carpenter, and says there is plenty of work right now in Portland.
Loyal workers
Reece Stone, Wyatt Fowler and Andrew Sorrick: The three from Fisher's class who graduated are still working for the same companies after two years. "They are loyal to the contractors they work for because they treat (the workers) good. There's opportunity, but the guys who stayed in school are loyal." He says as properly trained laborers they can now move up the ladder. "As a laborer you learn a little bit of everything, you're a Jack-of-all trades. Then you figure out what you like and what you're more skilled at." Any kind of management skill is highly valued in a high turnover workforce. "They can move into whatever position they want. We teach introduction to crew leadership skills. That's the way many of them want to go." They could be leading crews of heavy machinery operators, other laborers or carpenters. "All the guys I have left are real committed. They haven't given up."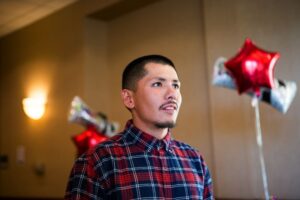 PAMPLIN MEDIA GROUP: ADAM WICKHAM – Laborer Graduate of the Year Jonathan Anaya credits the school with encouraging employers give him more opportunity and better pay.
Money talks
And the pay does go up. Another graduate from the Laborer group, James Phillips, was there with his wife Maryann and son Noah. Phillips has worked for Gregory Pacific for a year. They are based out of Lake Oswego but they do excavation for civil and commercial projects all over Portland, Southwest Washington and even as far as Eugene. "We generally do footings and pipe laying," says Phillips. "We did all the footings for 12th and Market," an apartment building in progress downtown a few blocks from the Portland Art Museum. His firm dug the dirt and laid down everything under the concrete. "We put the rock in and compacted it. I learned a bit here (in school) but most of it out in the field. What I love about the school is you get a little bit of seat time and a lot of time in field." He's psyched to be a laborer. "I love it, I've always loved working with my hands. I mainly worked shoveling and on the jumping jack or the whacker-packer. It's a compacting device." Currently he earns $16 an hour, but he says the last letter he got from BOLI said that his minimum wage as a qualified laborer will go up to $20.66 an hour. Does he have any advice for prospective students? "Have fun, dig deep, don't quit."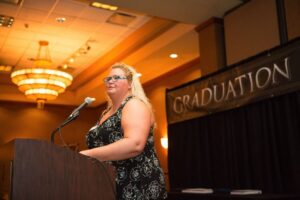 PAMPLIN MEDIA GROUP: ADAM WICKHAM – Katrina Cloud, NWCC Director of Apprenticeship, introduced the graduates and speakers NWCC President Bob Strader and Brad Avakian, the Commissioner of the Oregon Bureau of Labor and Industries.
Tailgate this
In his address to the guests, NWCC President Bob Strader borrowed a theme from a TED Talk and reminded the students that they have grit. "Google defines grit as strength of character, hardiness, backbone, determination and courage." He also informed them that, "As a graduate, you're alumni. NWCC is now your alma mater. We don't have a football team and tailgates in the parking lot, but we do offer continuing education. And it's pretty likely the industry is going to pay for your education as you continue on this path." Strader urged them to spread the word to their friends and family. He said most of the college's application referrals come that way. "Tell everyone about your journey, how the college got you a job in construction. Do all of that for your alma mater and maybe one day we will have a football team."
Cousins
Cy Robertson and Jarvis Zirkle were shining examples of the friends and family nature of NWCC's intake. They are cousins and came to celebrate with their kids and extended family. Robertson was in the carpentry finish program. He was pretty excited to be close to graduating, needing just a few more hours. The course takes four years, with 8,000 hours required of on the job training, and 144 hours per year of bookwork. He now works for LG Contractors, but has worked for R&H and Primo. "I've been bouncing around. The longest is three years straight with the different companies. I wanted to get different experience," he said. Robertson describes his work as going from bare ground to a completed building, such as an office or hotel. The investment boom has sent steady work his way. He worked on a New Seasons in Woodstock from start to finish, and on another one in Tualatin. "I work with wood, steel, tile, concrete, landscaping…Every aspect of making a property go from bare space to livable space." He has done roofing, wood framing, metal framing, welded some flowerpots, and done the finishing of walls and floors and installed door hardware. "I knew a little before, that's why I was interested in the program. With the card I'll be able to go anywhere and I have a general knowledge of carpentry." The card (his graduation certificate) would help him join the carpenters union. "I just spoke to my buddy who is in the union. He's living near Reno, Nevada, making $2,000 a week. There are plans to build a Tesla (battery) factory there. That's a four-, five-, maybe even eight-year job." Would he head to Reno? "I'd love to go, but my lady and everyone is here, and she doesn't want to go. I love Oregon so I want to stay in Portland." His cousin Jarvis Zirkle is in a similar situation. "I've always been a builder," says Zirkle. "I enjoy working with my hands." He works for Wood Mechanics, a framing outfit. If you see a concrete base, stick-built apartment building going up around Portland right now, that's the sort of job he's on. "Yeah, stick framing," he says with a smile. "We do a lot of multi family homes." He was there with his daughter, Ladonna. "We'll stay in Portland. There's jobs all over the place. There's plenty of work right now."
"Changed my life"
Graduate of the Year Jonathan Anaya made a point of adding to his interview. He was pleased with the college. "Put in the paper that this is a great school and it really changed my life," he said. "I used to work for small companies and they wouldn't pay me too good, there was no room for opportunity or advancement. At school I learned a lot, I've grown a lot. Anyone considering getting to school should do it."
NWCC Commencement
Brad Avakian, the commissioner of the Oregon Bureau of Labor and Industries, gave the commencement address. He was introduced as having degrees in psychology and law and as having worked as a civil rights and labor attorney. He came clean about coming from a trade family but never having been a blue-collar worker himself. He told the story of his grandfather who came from Armenia as a tile setter and retrained as a carpenter. That man had seven sons who were all electricians and carpenters. Avakian remembered riding though the streets of Fresno and his dad telling him that the neighborhood was built by his grandfather and uncle. "They taught me a lot about the importance of being a tradesperson to the rest of society. Not one of us will get married in a church, shop in a store, go to class in a school or drive on road that was not built by skilled tradespeople." He went on to plug his initiative to return shop class to Oregon middle and high schools — and he meant 21st-century shop class. In Beaverton they study biomedicine, and students in Bend design (using CAD) an electric car, fabricate the sheet metal body, install the motor and braking systems and, finally, race their electric cars on the local track. "You graduates will build this state and this county, and no one else can do it like you, so do it." Avakian added: "You are graduating at a great time. We used to have out of state contractors coming in and outbidding us, it was a tough time. That's changing. There is work out there now. The folk who are starting to build things are looking for folks exactly like you. You've learned skills which will earn a lot of money for you and family, for a lifetime. And you have become part of a brotherhood and a sisterhood of other trade workers who will support you." See the original article here:
http://www.pamplinmedia.com/but/239-news/362264-241250-shovel-ready-scholars